Steinbach
Powerful sand filter unit for pools up to 40,000 l capacity
Self-priming filter pump with integrated pre-filter and timer switch
Connectors for all common pools Ø 32/38 mm plus free INTEX adapter
7 way valve with solid adjustment lever
Comprehensive range of accessories available
Sold Out
The selected product is currently not available. As soon as the product is on stock, we will send you an E-mail.
From € 40,- free shipping
Product information
Filter unit Comfort 75 has a circulation rate of 7.800 l/h, the connection is 220-240V~ / 50Hz / 550 W. This filter unit can be used for pools with approx. 40.000 l water content and can be connected to all commercially available installation pools with a hose connection Ø 32/38 mm. The filter unit can be used up to a maximum water temperature of 35 ° C. To maintain crystal-clear and sparkling pool water, the filter system can be operated with filter sand as well as with Filter Balls as filter medium.

Integrated timer
Forget all about switching your filter unit on an off manually. Using this timer switch, you can set the filter time you want quickly and easily. The LED'S visible on the display show you the filter times programmed in. One filter cycle every 24 hours can be set. A backup battery in the filter cover saves the data you input, even when there's a power cut.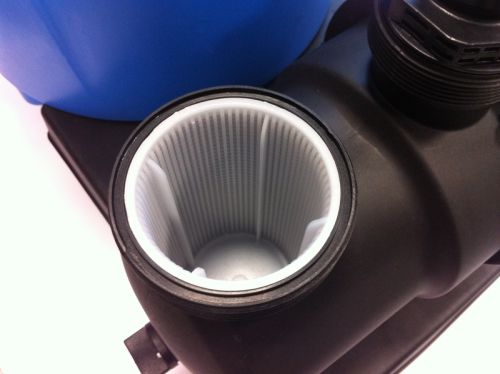 Large pre-filter
The large pre-filter stops coarse dirt particles from getting in. This protects the filter pump fro damage, and also helps stop overloading the main filter area right at the front end. A reduction in the amount of pool care chemicals is just one advantage of this.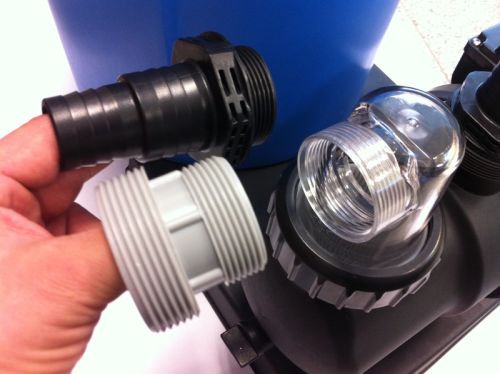 Standard connection and INTEX adapter
The models of the Comfort series have connections for swimming pool hoses Ø 32/38 mm as standard. This means that almost all commercially available swimming pools on the market can be connected. In addition, the Comfort 75 model also comes with 2" special INTEX adapters free of charge to enable you to enjoy the advantages of this Steinbach filter system in these pools too.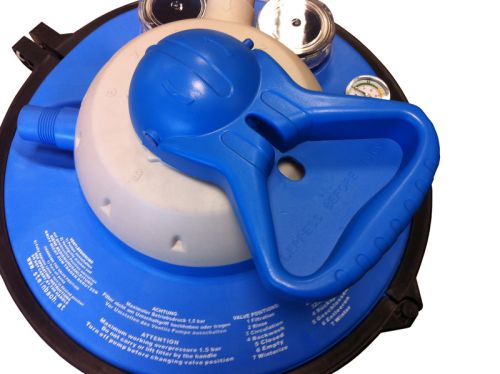 7 way valve
Everyone has a 6 way > here there are 7 options for optimum operational quality and crystal-clear water.
Filter, backwash, rinse, empty, circulate, winter setting, closed
Using the solid dial, you can carry out the whole water cleaning process without getting wet, or having to block off or dismantle anything.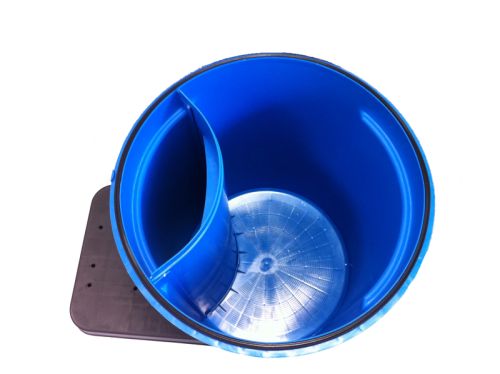 Large chamber for filter sand
Once the 7 way valve is removed, the chamber for the filter sand is visible. The large opening makes it easy and, above all, easy to change the filter sand. With above ground pools, this should be changed every 1 - 2 years.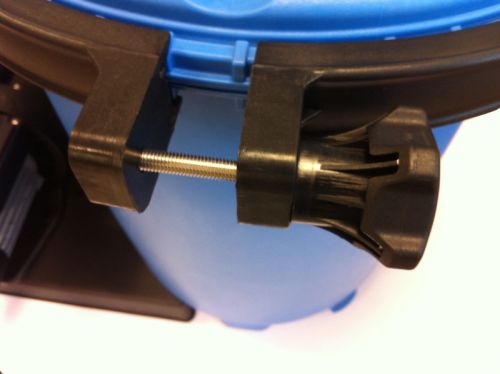 Solid clamping ring
A quality checked, solid clamping ring connects the filter holder to the 7 way valve. A large rotary knob makes it easy to close without any tools.
Filter system:
Salt water suitable: yes
Water capacity: 40.000 l
Circulation capacity: 7.800 l/h
Boiler size: 415 mm
Connection size: Ø 32/38 mm
Valve type: 7-way valve with pressure gauge
*Sound pressure level: < 70 dB(A)
Water temperature: 10°C - 35°C
Usable filter medium 1: filter sand
Quantity of filter medium 1 used: 25 kg
Sand grain size: 0,70 - 1,20 mm
Usable filter medium 2: Filter Balls
Quantity of usable filter medium 2: 700 g
Pump part number: 040917
Filter pump:
Power supply: 220-240V~ / 50Hz
Pump power: 550 W
Transformer: no
Pump power: 9.400 l/h
Operating principle: self-priming
Head: 10,00 m
Pre-filter: yes
Timer present: yes
Time switch: {751}
External timer possible: {673}
Protection class: IPX5
Insulation class: F
Cable length to unit: 1,50 m

* Emission sound level comparable to a large household appliance
FAQs from category Sand filter systems:
Accessories

Other customers also purchased