Steinbach
Powerful filter system for pools up to 55,000 l capacity
6-way valve with lever and manometer
Sold Out
The selected product is currently not available. As soon as the product is on stock, we will send you an E-mail.
From € 49,- free shipping
Product information
The filter unit has a circulation power of 6.000 l/h or a pump capacity of 11.000 l/h, the connection is 220-240V~ / 50Hz / 450 W. This filter unit can be used for pools with approx. 55.000 l water content and can All commercially available installation pools are connected with a hose connection Ø 38 mm. The filter unit can be used up to a maximum water temperature of 35 °C and is suitable for salt water up to a salt content of 5 g/l.
 
Powerful sand filter system for all swimming pool types up to 55.000 l water capacity.
Filter system:
Salt water suitable: yes
Water capacity: 55.000 l
Circulation capacity: 6.000 l/h
Boiler size: 396 mm
Connection size: Ø 38 mm
Valve type: 6-way valve with pressure gauge
*Sound pressure level: < 70 dB(A)
Water temperature: 10°C - 35°C
Usable filter medium 1: filter sand
Quantity of filter medium 1 used: 45 kg
Sand grain size: 0,40 - 0,80 mm
Usable filter medium 2: Filter Balls
Quantity of usable filter medium 2: 1260 g
Pump part number: 041065
Filter pump:
Power supply: 220-240V~ / 50Hz
Input power maximum: 450 W
Transformer: no
Pump capacity: 11.000 l/h
Operating principle: self-priming
Head: 10,80 m
Pre-filter: yes
Timer present: no
Protection class: IPX5
Insulation class: I
Cable length to unit: 5,00 m

* Emission sound level comparable to a large household appliance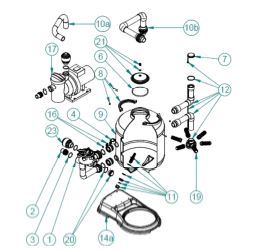 FAQs from category Sand filter systems: