Steinbach
Now or never: save up to 50%!
Integrated flow sensor
Heating capacity 3.9 kW
Sound power dB(a) 36 dB(A)
Water connection Ø 32/38 mm
Digital control with LED display
Quick and easy assembly
Bypass set (art. no. 060045) recommended
Sold Out
The selected product is currently not available. As soon as the product is on stock, we will send you an E-mail.
From € 49,- free shipping
Product information
Swimming pleasure in perfectly tempered swimming pool water - no problem with the automatic heat pump Mini with integrated flow sensor! Due to the simple installation, which can be carried out at any time, with only minimal maintenance, nothing stands in the way of an unforgettable summer. The digital control with LED display makes the heat pump Mini especially user-friendly. We also recommend the purchase of a bypass system. (Art. No. 060045). With the help of the Bypass Set, the water flow and the water circuit can be regulated individually. Our heat pump Mini is also suitable for saltwater pools due to the installed titanium heat exchanger. The salt concentration must not exceed 0.50 % (corresponds to 5 g/l or 5,000 ppm).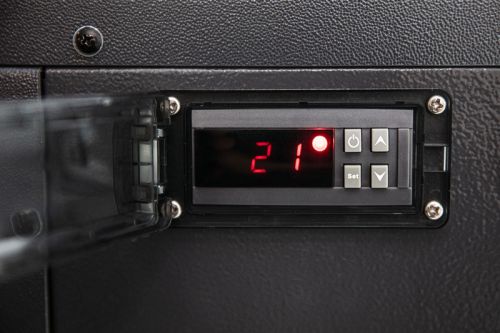 LCD-Display
All data and functions are easily and quickly accessible via the display.
Water capacity: 20.000 l
Minimum water flow rate: 1.000 l/h
Dimension: 36,50 x 32 x 37 cm
Salt water suitable: yes
Connection size: Ø 32/38 mm
Heating power*: 3.900 W
Input power heater*: 650 W
Heating input current*: 3,30 A
Cooling possible: no
Input power maximum: 850 W
Input current maximum: 3,90 A
Power supply**: 220-240V~ / 50Hz
Performance coefficient COP heating: 6
Protection class: I
Protection class: IPX4
Sound pressure level (10 m): 36 dB(A)
Suction pressure nominal: 0,70 MPa
Suction pressure maximum: 1,50 MPa
Delivery pressure nominal: 3,00 MPa
Maximum discharge pressure: 4,30 MPa
Refrigerant: R32
Refrigerant charge maximum: 280 g
Global Warming Potential GWP: 675
CO2 equivalent: 0,19 t
Water temperature: 15°C - 35°C
Timer present: no
Cable length to unit: 1,55 m

*variable - depending on the environmental conditions.
**single-phase alternating current
Accessories

Other customers also purchased