INTEX
Frame Pool Set Ultra Quadra 732 x 366 x 132 cm
Saltwater/sand filter combination
High stability through additional support structure
Robust and strong pool foil
Extensive accessories for your pool
Fun and good mood guaranteed for the whole family
Sold Out
The selected product is currently not available. As soon as the product is on stock, we will send you an E-mail.
From € 40,- free shipping
Product information
There is nothing like a metal frame pool from INTEX. Easy to put up, robust, long-lasting. The powder coated frame guarantees high stability. Refreshment, fun and a good mood for all the family - guaranteed with this 732 x 366 x 132 cm size pool. Water capacity when filled to 90 % is 31.805 l, assembly time is only around 60 min minutes. Stability and safety are guaranteed by the floor liner thickness 0,67 mm, and wall 0,67 mm. The sand filter unit included as part of the scope of supply with a combined a salt water system Krystal Clear sand filter unit & salt water system CG-28676, Circulation capacity 5.700 l/h guarantees optimal filtration. Not only does it give you great filtration, it also has all the required connections. The INTEX Hydro Aeration TechnologyTM improves the circulation, filtration, water clarity and the air quality of your pool. A pool cover and protective floor cover give added protection and reduce dirt in the pool. The safety ladder supplied not only makes it easy to climb in and out, it also prevents unauthorised access to the pool, thanks to removable steps. The full set is rounded off nicely with a cleaning set including skimmers and a volleyball set for your daily training regime.
INTEX Hydro Aeration TechnologyTM
Hydro Aeration Set for your INTEX pool
Easy installation
Can be retrofitted any time
 
Improved circulation and Filtration
Fine particles in the water clump together and settle to the bottom of the pool during the aeration process, making it easier to filter and remove sediments through the filtration system. The improved filtration and circulation make the pool water healthier and more comfortable.
Improved water clarity
By mixing air with water, the aeration process includes oxidation of iron and manganese, eliminating staining in water. The result is sparkling pool water that looks and feels great!
Increased negative ions at the water surface
Increased negative ions have been proven to improve the air freshness around the pool as it removes air pollutants and neutralizes free radicals that affects air quality.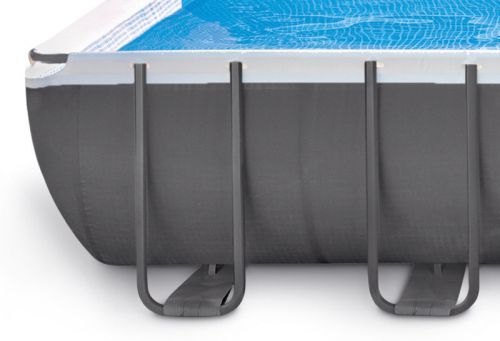 Stability and safety
The combination of pool liner and frame ensure maximum stability of your pool. The coated metal bars attached on all sides ensure high strength and stability. All edges are rounded to eliminate any risk of injury to children.
Pool form: rectangular
Product dimension: 732 x 366 x 132 cm
Product set-up dimensions: 787 x 422 x 132 cm
Salt water suitable: yes
Operational area: Outdoor
Mounting options: freestanding
Water capacity: 31.805 l
Water filling height: 114 cm
Material outer lining: laminated PVC
Surface treatment: laminated PVC
Material inner lining: laminated PVC
Liner thickness bottom: 0,67 mm
Liner thickness wall: 0,67 mm
Color of inner liner: mosaic
Assembly min. number of persons: 2
Assembly time approx.: 60 min
Filter unit: Krystal Clear sand filter unit & salt water system CG-28676, Circulation capacity 5.700 l/h
Number of skimmers: yes
Inlet nozzle: 1
Hoses: yes
Ladder: yes
Pool cover: yes
Floor protection cover: yes
Cleaning kit: yes
Please be aware that the shown product contain only the current scope of delivery, based on 2022.
FAQs from category Frame Pool Set Ultra Quadra:
How do I get spare parts?
You can order stocked and available spare parts directly in our online shop. There you can find all product information and prices. We recommend that you use the part reference from the operating instructions of your product. This will ensure that you purchase the right and correct spare part.