INTEX
Krystal Clear cartridge unit C1000
Quality product from Intex - tried and tested by millions
Intex Hydro Aeration Technology
Includes original filter cartridge
Complete accessories for Intex pools Ø 32 mm with hose connector
Includes 2 connector hoses
Sold Out
The selected product is currently not available. As soon as the product is on stock, we will send you an E-mail.
From € 49,- free shipping
Product information
Intex cartridge filters deliver crystal clear water and great filtration results. This system, model 638R, features circulation output of 2.687 l/h or pump output of 3.407 l/h, the connection totals 220-240V~ / 50Hz / 99 W . All conventional above ground pools with a hose connection can be connected Ø 32 mm. The suitable filter medium for your Krystal Clear cartridge unit C1000 is the Intex filter cartridge type A. 2 swimming pool hoses with a length of 1,50 m, Ø 32 mm including hose clamps, 2 grommets, 1 suction grid and an inlet nozzle for Intex pools are included in delivery. The Intex Hydro Aeration Technology improves the circulation, filtration, water clarity and the air quality of your pool. The filter unit can be used with water temperature 35 °C and is suitable for salt water up to a salt content of 3 g/l.
Intex Hydro Aeration Technology
Hydro Aeration Set for your Intex pool
Easy installation
Can be retrofitted any time
Improved circulation and Filtration
Fine particles in the water clump together and settle to the bottom of the pool during the aeration process, making it easier to filter and remove sediments through the filtration system. The improved filtration and circulation make the pool water healthier and more comfortable.
Improved water clarity
By mixing air with water, the aeration process includes oxidation of iron and manganese, eliminating staining in water. The result is sparkling pool water that looks and feels great!
Increased negative ions at the water surface
Increased negative ions have been proven to improve the air freshness around the pool as it removes air pollutants and neutralizes free radicals that affects air quality.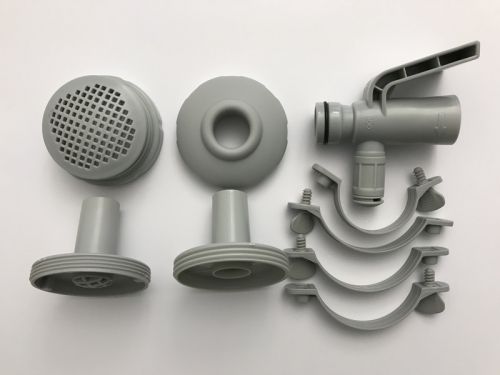 Connections for INTEX pools
As standard, the filter unit comes with ducting, suction grid, inlet nozzle, connection hoses for INTEX pools with a Ø 32 mm connection, hose clips and Hydro Aeration Technology.
Filter system:
Salt water suitable: yes
Water capacity: 21.100 l
Circulation capacity: 2.687 l/h
Boiler size: 119 mm
Connection size: Ø 32 mm
Valve type: no
Sound pressure level: ≤ 80 dB(A)
Water temperature: 10°C - 35°C
Usable filter medium: Filter Balls
Quantity of filter medium used: 60 g
Usable filter medium: cartridge filter
Quantity of filter medium used: A
Filter pump:
Power supply: 220-240V~ / 50Hz
Input power maximum: 99 W
Transformer: no
Internal operating voltage: 0 V
Pump capacity: 3.407 l/h
Operating principle: non-self-priming
Pre-filter: no
Timer present: no
Protection class: IPX5
Cable length to unit: 3,00 m
FAQs from category Filter system:
How do I get spare parts?
You can order stocked and available spare parts directly in our online shop. There you can find all product information and prices. We recommend that you use the part reference from the operating instructions of your product. This will ensure that you purchase the right and correct spare part.
Accessories

Other customers also purchased