INTEX
Robust, strong pool liner
Highly stable due to integrated strut construction
Very well aligned filter unit
Comprehensive range of accessories
Guaranteed fun and high spirits for all the family
Safety ladder with removable steps
Sold Out
The selected product is currently not available. As soon as the product is on stock, we will send you an E-mail.
From € 49,- free shipping
Product information
There is nothing like a metal frame pool from INTEX. Easy to put up, robust, long-lasting. The powder coated frame guarantees high stability. Refreshment, fun and a good mood for all the family - guaranteed with this size pool. Water capacity when filled to 90 % is , assembly time is only around 30 minutes. Stability and safety are guaranteed by the floor liner thickness , and wall . The cartridge filter unit (included) ensures optimal filtration . Not only does it give you great filtration, it also has all the required connections. A pool cover and protective floor cover give added protection and reduce dirt in the pool. The safety ladder supplied not only makes it easy to climb in and out, it also prevents unauthorised access to the pool, thanks to removable steps.
Overview of the data:
Pool
Water capacity at 90 % fill:
Water depth
Liner thickness floor
Liner thickness wall
Cartridge filter unit
Protective floor covers for pools PE 75 g/m²
Vinyl covers, 0.18 mm thick
Safety ladder with removable steps, max. load 136 kg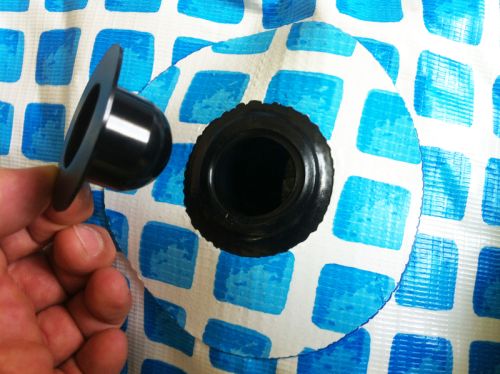 Closure cap for filter connector
Do you want to run your pool without filter technology?
Would you like to replace your filter cartridges?
Is your filter pump being serviced?
No problem! Just use the connector cap which came with your basic equipment to block off the filter connection. Push it into the opening in the filter connection on the inner side of the pool liner to block. Quick, easy, efficient.