INTEX
Frame Pool Set Prism Rondo with accessories
3 layers of SUPER-TOUGH® material
High stability 
Extensive accessories
Easy to assemble and dismantle
Fun for the whole family
Sold Out
The selected product is currently not available. As soon as the product is on stock, we will send you an E-mail.
From € 49,- free shipping
Product information
Intex premium pool line. Enjoy hours of outdoor fun with Intex Prism Frame™ pools. Durable and easy to assemble. The strong powder-coated steel tubing provide a high level of stability. Fun for the whole family is guaranteed in the Ø 610 x 132 cm size pool. Water capacity when filled to 90% is 32.695 l. Stability and safety are guaranteed by the floor liner which is sufficiently dimensioned. The cartridge filter unit Krystal Clear cartridge filter unit C1500, Circulation capacity 4.164 l/h (included) ensures optimal filtration. The filter unit does not only give you great filtration but also has all the required connections. The INTEX Hydro Aeration TechnologyTM improves the circulation, filtration, water clarity and the air quality of your pool. A pool cover and protective floor cover give added protection and reduce dirt in the pool. The safety ladder supplied makes it easy to climb in and out of the pool. It also prevents unauthorised access to the pool, thanks to removable steps.
INTEX Hydro Aeration TechnologyTM
Hydro Aeration Set for your INTEX pool
Easy installation
Can be retrofitted any time
Improved circulation and Filtration
Fine particles in the water clump together and settle to the bottom of the pool during the aeration process, making it easier to filter and remove sediments through the filtration system. The improved filtration and circulation make the pool water healthier and more comfortable.
Improved water clarity
By mixing air with water, the aeration process includes oxidation of iron and manganese, eliminating staining in water. The result is sparkling pool water that looks and feels great!
Increased negative ions at the water surface
Increased negative ions have been proven to improve the air freshness around the pool as it removes air pollutants and neutralizes free radicals that affects air quality.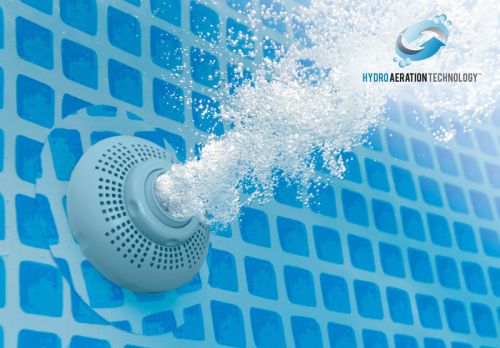 INTEX Water Revitalisation Technology
■ Water revitalisation nozzle complete sets for your INTEX pool.
■ easy assembly
■ can be retrofitted at any time
During the water revitalisation process, fine particles clump together in the water and settle at the bottom of the pool. This filter system facilitates the filtering and removal of sediments. The improved filtration and circulation makes the pool water healthier and more comfortable.

By mixing air with water, the water revitalisation process causes iron and manganese to oxidise, removing stains from the water. The result is crystal clear pool water that looks good and feels great.

Increase of negative ions on the water surface! Negative ions have proven to improve the air quality around the pool!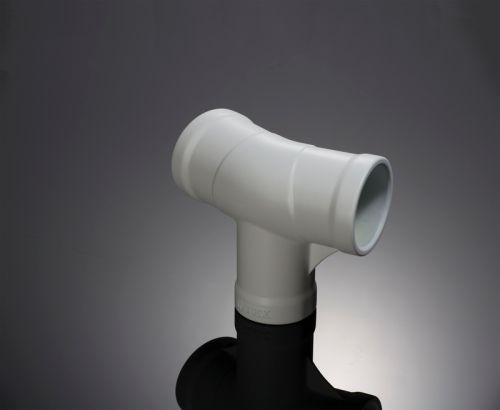 T-Joint
SIMPLIFIED ASSEMBLY
• No more pins to try to align and insert – simply push all the
pipes into the T-Joints for a snug fit

RUST PREVENTION
• The T-Joint creates a water-tight seal with the pipe –
preventing internal rust from forming

DURABILITY
• T-Joints are engineered for high strength and
infused with UV inhibitor to ensure weather resistance and long service life
Pool form: round
Product dimension: Ø 610 x 132 cm
Product set-up dimensions: Ø 610 x 132 cm
Salt water suitable: yes
Operational area: Outdoor
Mounting options: freestanding
Water capacity: 32.695 l
Water filling height: 117 cm
Material outer lining: laminated PVC
Surface treatment: laminated PVC
Material inner lining: laminated PVC
Liner thickness bottom: 0,51 mm
Liner thickness wall: 0,64 mm
Color of inner liner: mosaic
Assembly min. number of persons: 2
Assembly time approx.: 60 min
Filter unit: Krystal Clear cartridge filter unit C1500, Circulation capacity 4.164 l/h
Number of skimmers: no
Inlet nozzle: 1
Hoses: yes
Ladder: yes
Pool cover: yes
Floor protection cover: yes
Cleaning kit: no
Please be aware that the shown product contain only the current scope of delivery, based on 2023.